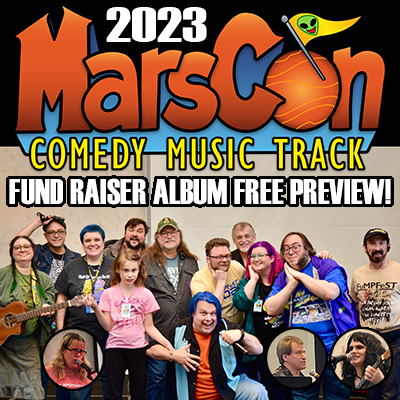 This is not a regular episode of Bad Rapport, this is a commercial for MarsCon 2023 and this year's Comedy Music Track Fund Raiser MP3 album, which you can purchase at MarsCon Comedy dot com at the 'Shop' page. It's only $30 for this nearly 4-hour long MP3 collection of comedy music concert tracks recorded live at Virtual MarsCon 2021!
Songs played:
I Can Sufficiently Rock You Now – Power Salad
Kang – Insane Ian
It's Daylight Savings Time – Steve Goodie
Florida Man – Ross Childs
Cat Named Flo – TV's Kyle, featuring Insane Ian and the great Luke Ski
I Like Borko – TV's Kyle, featuring Lindzilla
The Penis Game – Bad Beth and Beyond
Toys – the great Luke Ski
Doctor Fauci – Carrie Dahlby
Freakazoid! – TV's Kyle, featuring Lindzilla
I'm Lookin' Out For Me – the great Luke Ski
Episode length: 32:51
It's also worth pointing out that you can also buy previous year's live concert MP3 collections, each nearly 4-hours long, dating all the way back to 2007, for just $30 each. Or, you can get ALL 17 COLLECTIONS, which is over 62 hours of live comedy music, for just $200 (only 42% of the regular cost)! For that, visit the 'Past Fundraisers' page of MarsCon Comedy .com.
Podcast: Play in new window | Download