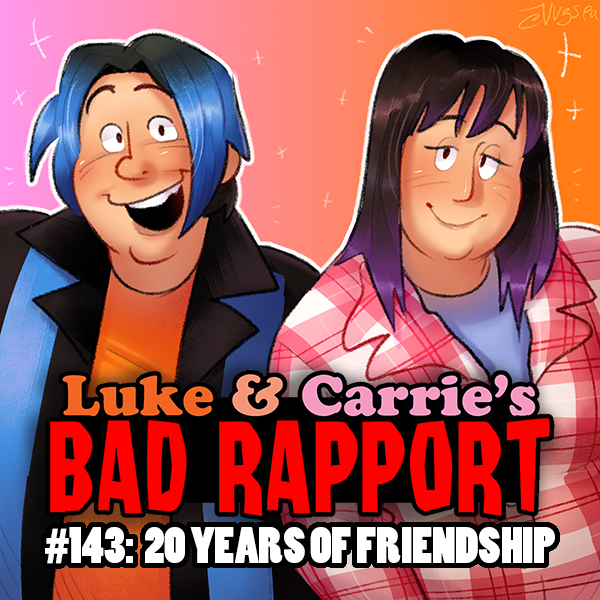 The first two 15-minute segments of this episode were recorded in June 2023 when Carrie and Alexann were visiting Luke in Burbank, and features them and the Bad Rapport debut of Luke's new roommate, Santana Maynard! The next 5 segments after that were recorded in July 2023, and featured Carrie talking about travel woes, Luke talking about getting high on the 4th of July, and we both review "Peacemaker" Season 1 and the first 7 episodes of the anime "Komi Can't Communicate". At that point (months before the SAG/AFTRA strike, which we both support), I was supposed to have finished editing and posting the episode. Well, real life got in the way as it always does, which kept me from editing the episode for 3 months until after FuMPFeST 2023 ended.
Carrie pointed out that we were closing in on October 25th, 2023, which is the 20th Anniversary of the day Carrie and I met. Ten years ago we did a whole huge special episode recapping the first ten years of our friendship (Episode #93). So we figured it made sense for us to record a couple more segments having an unprepared (my fault) conversation about some of the highlights of what she and I have been doing together and separately over the past 10 years to commemorate two decades Carrie interrupting Luke and Luke belching on the mic to annoy Carrie. So that's what we did. You're welcome, I guess?
Also, there hasn't been a Bad Rapport podcast posted in the month of October since 2019, so I have been saving up some HALLOWEEN BANGERS for you all to rock out to! The comedy and music tracks for this episode are by The Ghost And Molly McGee, the great Luke Ski, Peter Hollens, Whitney Avalon, The Muppets, MC Lars, Schaffer the Darklord, Josh Gad, Alex Brightman, mc chris, Adventure Time, Rob Paravonian, The Cuphead Show, Skunk Barf, Art Paul Schlosser, brentalfloss, Mighty Magiswords, Insane Ian, TV's Kyle, Eminem, WandaVision, Wig Wam, Peacemaker, Freeced featuring Awkward Marina, Mega Ran, Devo Spice, Jeff Whitmire, Carrie Dahlby, Chris Mezzolesta, Green Jelly, Posehn, and Trevor Strong.
What do you get when you put it all together?… You get Episode #143 of "Luke & Carrie's Bad Rapport", featuring an AMAZING commissioned piece of art by FuMP superfan CHUCK! Please follow her on social media, @vv3spa on Instagram and Twitter, her commission prices are pinned to the top of her feed! Speaking of 'feed'… "CHICKEN!"
Episode length: 4:04:04 (4-4-4: Two-Thirds of the Beast!)
Podcast: Play in new window | Download