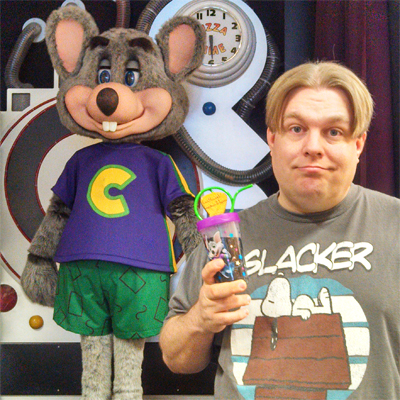 The first episode of 2014 brings with it the first new song by the great Luke Ski in over a year, which was released on his 40th birthday. In this episode, Luke recounts the events of his actual birthday this year, as well as the birthday party he threw the following Sunday at Gameworks and a Korean Karaoke place.
You'll also hear the fully produced promo that Luke made for the MarsCon 2014 Dementia Track & Fund Raiser which was meant to be a part of the free preview in Episode 96.5, but whatever. The point is, the Fund Raiser is still going, so please pick up an album and/or t-shirt today. However, Luke Ski's MarsCon Fund Rasier now faces some stiff competition from Carrie Dahlby's Indie Gogo to fund the completion of her 3rd album "Sing All Funny Jokes"! At the very least, it's an easy way for you to pre-order her album now, which Carrie hopes to release at MarsCon 2014. I hope you guys are well-off and generous enough to donate what you can to both fund raisers.
We also play tracks by Patton Oswalt, Big Daddy, the Beatles, ABCmouse.com, Jonathan Mann & Justin "Jew Wario" Carmical, and FAWMer TV's Kyle. Will Luke Ski be able to create 14 songs in 28 days for February Album Writing Month? Tune into Episode 99 to find out. In the mean time, you can leave comments for *this* episode after you listen to it, because time is linear, no matter what the DS9 wormhole aliens think.
Episode length: 1:58:21
Podcast: Play in new window | Download