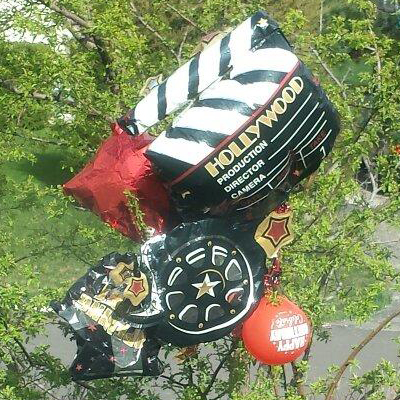 In this episode, Carrie tells us what Alex did to get his ball pit taken away for a month, and about the mysterious appearance of some potentially prophetic balloons in her backyard. Luke tells us about fulfilling another life-long dream at the Magic Kingdom and helping the "Some Jerk With A Camera" crew film some segments for their respective web review shows at Disneyland.
Then we have a new segment where Luke catches up with old friends who live in the L.A. area. This time around it's his old Kansas City ComedySportz compadre Mike Guthrie, who has been performing in some comedy and burlesque shows. Luke tells Mike of a Hollywood cliche milestone that happened to him earlier that day while doing his laundry.
Finally, we have the first half of a discussion of 'comedy song ideas we never got around to doing, and likely never will'. Luke kicks this off, since he happened to have made a printed list of old unused song ideas handy from when he made his last album a year ago. He'll continue his list, along with Carrie telling us some of her unused song ideas, in our next episode.
This episode's comedy & music tracks are by Gogol Bordello, Ookla The Mok, Worm Quartet, Richard Cheese, Danger Doom, Tony Goldmark, The Nick Atoms, Family Guy, Pudding Capacity, The Arrogant Worms, Kansas City ComedySportz, Carrie Dahlby featuring Erin Sherlock, TV's Kyle, Insane Ian, and The Crest featuring Eyebeams.
This episode also has what may be the most entertaining edition of "What's Luke Plugging Now?" ever, featuring 2 special guests, only one of whom is human.
Episode Length: 2:49:03
Podcast: Play in new window | Download