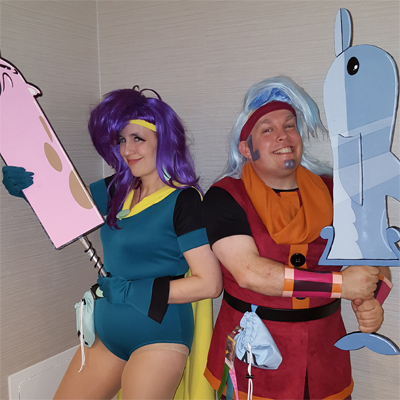 One does not simply recap MarsCon in a podcast that lasts less than 4 hours long… Well, maybe they do on other podcasts, but not us. I simply don't have the time to edit things down, because I'm far too busy secretly writing song parodies and coordinating the creation of elaborate costumes, wigs, and props, so as to surprise said MarsCon audiences with such things, as Carrie and I are so pictured here. The primary target of this "Mighty Magiswords" related surprise of course was show-creator and Prohyas-voicer "TV's Kyle" Carrozza and his epic wife Lindsay Smith, who join us on this podcast to talk all about the big she-bang that went down. The rest of the episode is mostly just Carrie and I recapping MarsCon 2016, inexplicably recorded on holidays again, including Easter, April Fool's Day, and we're posting it today which is Dr. Demento's birthday, which isn't a national holiday, but should be.
The comedy & music tracks in this episode are by the great Luke Ski featuring Carrie Dahlby, TV's Kyle, Power Salad, The Frantics, The Gothsicles, Jamie Kennedy & Stu Stone featuring Bob Saget, Tenacious D, Dave Cox, The Consortium Of Genius, Tom Smith, MC Lars, Da Yoopers, Katie Goodman & Soren Kisiel, Melissa Rauch, The Arrogant Worms, and Cobra Starship.
Oh, and one more thing, PLEASE LEAVE US COMMENTS!!! Our past 2 episodes had zero comments, so please leave us some kind of comment so we know that anybody out there is actually listening to this, which I realize in and of itself is a long shot. In any case, hope you enjoy listening to the show as you simply walk into Mordor.
Episode Length: 4:18:30
Podcast: Play in new window | Download