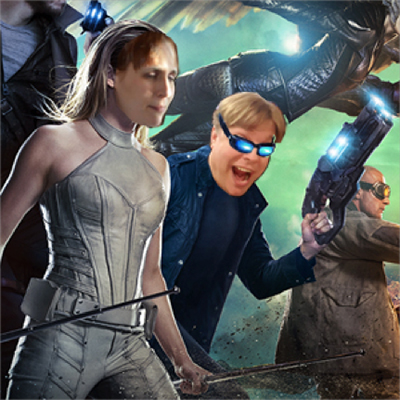 You give us 2 months, we'll give you an episode. This time around we read the massive glut of COMMENTS from all 16 OF OUR LISTENERS! Yes, the numbering of our listeners has begun! If you'd like to get assigned a number and be counted among the over-a-dozen listeners we've amassed in the 6+ years we've been doing this podcast, then leave a comment here, or call 916-LUKE-SKI and leave a comment on our voice mail line!
We also review Season One of "DC's Legends Of Tomorrow", the only TV show Carrie has been able to keep current on amid her busy parenting lifestyle. How much of that has to do with actor Wentworth Miller, we can only speculate. We also get caught up on what we've been up to lately, and Carrie invents a new form of hands-free lingerie-mounted Skype device.
This episode's comedy & music tracks are by The Lonely Island featuring Adam Levine, Christopher Walken, Paul & Storm, Worm Quartet, the Gothsicles, the Four Postmen, the Simpsons, Sudden Death featuring the great Luke Ski and the Nick Atoms, the Arrogant Worms featuring Carrie Dahlby, Game Grumps, and the Consortium Of Genius.
Until next time, we'll be chillin'. Because, uh, Captain Cold, um, yeah. Reference.
Episode length: 2:18:24
Podcast: Play in new window | Download