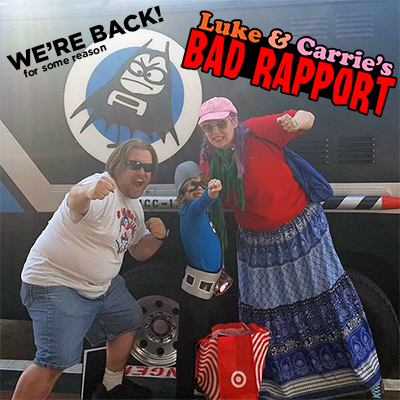 It's been seven and a half months since we've posted a full proper episode of "Bad Rapport"! So are we going to talk about everything we've done since then? No! We're going to talk about Alex & Carrie's first trip out to California to see "The Aquabats!", and Carrie's second trip out to California to see "The Aquabats!"! Also, we do an instant review of "Star Wars: The Last Jedi", Carrie talks about her 40th Birthday, our respective Christmas visits with our families, and we have surprise brief interview with "Blasted Bill" Putt of the "Pod Of Destiny" podcast recorded at ConFusion in Michigan. But mainly it's Carrie talking about the Aquabats. If there isn't already a show called "The AquaCast!" then this is it, at least for this episode.
Our comedy and music tracks are provided by Suicidal Tendencies, Power Salad, The Meatmen, Dr. Demento, Brak, The Aquabats!, The Misfits, Adam West, The Dead Milkmen, GOGO13, Osaka Popstar, Joan Jett, Carrie Dahlby, the great Luke Ski, Rachel Bloom, Eminem, Ookla The Mok, and Garfunkel & Oates.
Note: the "What's Luke Plugging Now?" segment was put in the middle of the episode because it made the most sense editing-wise. This episode is brought to you by Roscoe's Chicken And Waffles. Or at least, we wish it was. Enjoy!
Episode length: 4:04:06
Podcast: Play in new window | Download