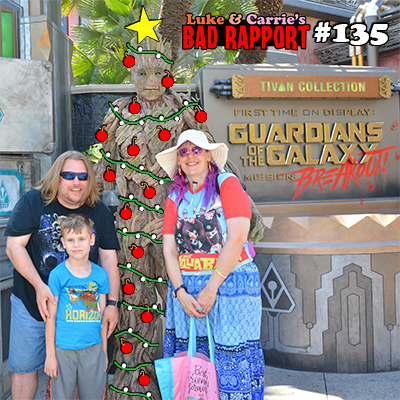 Another 6-and-a-half months, another episode, and in that time yet another visit to California for Carrie and Alex to see a very special Aquabats concert. Per usual, we do our best to hit the highlights of our lives since we last posted an episode, and fill you in on some of the changes in our personal lives that has made making time to record these episodes even harder recently. This one's just under 3 hours, with a pretty even split between talking (including plugging stuff and reading your comments) and playing comedy tracks for you all, finishing off with a bunch of funny holiday music!
This episode's comedy tracks are by Cheech Marin, "Weird Al" Yankovic, Monty Python, Moneyshot Cosmonauts, Schaffer The Darklord, the great Luke Ski, Carrie Dahlby, Cirque du So What?, Devo Spice, the Incredibles, Will Arnett, The Aquabats, Alex Rasey, TV's Kyle, The Arrogant Worms, Paul & Storm, Princess Rap Battles (Whitney Avalon), Art Paul Schlosser, Epic Rap Battles Of History, MC Frontalot, Kyle Kinane, Rachel Bloom, Paul F. Tompkins, brentalfloss, Chris Pine, Shameik Moore, William Shatner, Henry Rollins, The Nick Atoms, Steve Goodie, The Doubleclicks, Fortress Of Attitude, and Lauren Mayer.
We wish you all a merry, happy, joyous life, no matter what time of year it is. Please leave us some comments, and we'll try to answer them in a new episode that we'll make as soon as we can. Peace and love to you all!
Episode length: 2:53:18
Podcast: Play in new window | Download