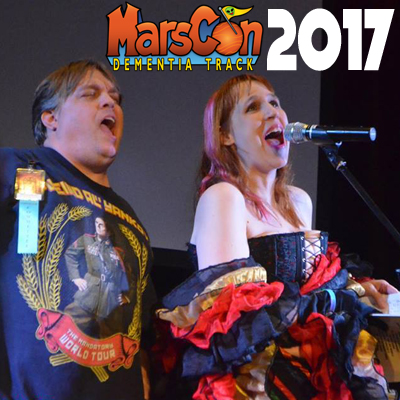 The title pretty much says it all. It's time for our yearly look back at all the stuff that went down almost 2 months ago at MarsCon 2017. Overall, it was an amazing, great, fun time, and I could type more, but why should I because you're going to listen to us talk about it anyway so I'll stop.
This episode's comedy & music tracks are by Mystery Science Theater 3000, Art Paul Schlosser, Richard Cheese, Devo Spice, Cirque du So What?, The Lonely Island featuring Michael Bolton, the great Luke Ski, Charlotte's Web, Scooter Picnic featuring Lindsay Smith, The Side Quest, Jemaine Clement, Tony Goldmark, Mikey Mason, "Weird Al" Yankovic, TV's Kyle, Epic Rap Battles Of History, T.J. Miller, Kobi LaCroix, GLaDOS, Nuclear Bubble Wrap, and MC117 featuring Klopfenpop.
Tune in next time when Luke and Carrie will talk about non-MarsCon things. But until then, enjoy our annual wrap-up!
Episode length: 3:22:05
Podcast: Play in new window | Download