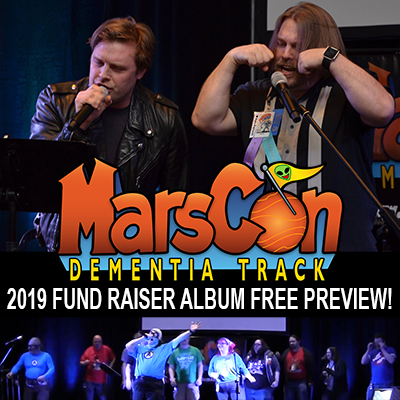 This is not a regular episode of Bad Rapport, this is a commercial for MarsCon 2018 and this year's Dementia Track Fund Raiser MP3 album, which you can purchase at MarsCon Dementia dot com at the 'Shop' page. It's only $20 for this nearly 4-hour long MP3 collection of comedy music concert tracks recorded live at MarsCon 2018!
Songs played:
Middle Aged Woman – Donita Smith
All I Want For Christmas – Marc With A C
Everything Was Terrible And Nothing Was Not On Fire – Starf and Mattari 2600
MarioKart 8 With Lyrics – brentalfloss
Religion And Politics Ya-Ta-Ta! Ya-Ta-Ta! – Power Salad
Sound Check Song – Devo Spice
The Moisture Song – Insane Ian
Wiggling Is A Luxury We Can't Afford – TV's Kyle & Linzilla
Finn And Poe – The Library Bards
The Crance – M.T. Foyer
All My Money – Carrie Dahlby & Alex Rasey
Everything's A Song! (Super Rad! Version!) – the great Luke Ski
Episode length: 33:19
It's also worth pointing out that you can also buy previous year's live concert MP3 collections, each nearly 4-hours long, dating all the way back to 2007, for just $20 each. Or, you can get ALL 13 COLLECTIONS, which is over 46 hours of live comedy music, for just $100 (only 42% the regular cost! For that, visit the 'Past Fundraisers' page of MarsCon Dementia .com.
Podcast: Play in new window | Download