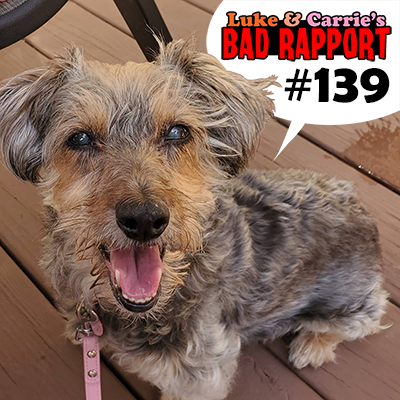 It's been 6 months and 9 days since our last episode, which is 127 years in '2020' time. Everything is horrible and sucks and the world is coming to an end. So is posting a new episode of Bad Rapport going to make things better or worse? Let's find out, shall we?
The episode starts with a surprise appearance from Jace McClain of Nuclear Bubble Wrap and Needlejuice records, because when I went to share the Zoom link with Carrie, I accidentally clicked on Jace's FB messenger icon and didn't notice. Following that, Luke talks about his commission work, and Carrie talks about her Mom's move into her, Josh, & Alexann's house in the Chicago area, which also included Sasha, the wonderful doggo who is seen in the podcast's image. Later on, we do a review of the awesome and hilarious new animated sci-fi show "Star Trek: Lower Decks".
This episode features comedy & music tracks by Bob E. Kelly, Devo Spice, Insane Ian, the great Luke Ski, Marc With a C, Richard Cheese, Seana Huizenga, Public Enemy, Epic Rap Battles of History, Brak, Misha D., The Aquabats, Worm Quartet, Steven Universe, Scooter Picnic, Brentalfloss, Robbie Ellis, Patton Oswalt and the "Crazy Ex-Girlfriend" Cast, Mighty Magiswords, Schäffer the Darklord, Matt Griffo, Radioactive Chicken Heads, and Coco.
We got some more comedy songs for the Covid-19 Quarantine, for the 2020 Election, and 2 sets at the end of the show for Halloween, so get your laugh on and party like there's no tomorrow, because there probably isn't. But just in case there is, VOTE like the lives of everyone you love depends on it.
Length: 2:30:11
Podcast: Play in new window | Download