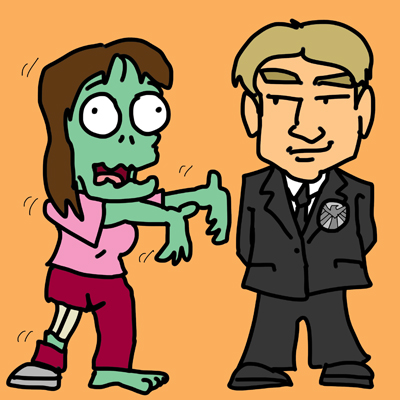 Much like a timelord who recently celebrated his 50th anniversary facing his moment of regeneration, change is inevitable. That's why for a number of reasons which are explained in this episode, we are altering the format of "Bad Rapport", making each episode shorter by cutting the number of our talking segments in half, but keeping the same amount of comedy music. We're going to make a specific effort to have our talk segments be concentrated discussions of what we're up to, as well as the media reviews we have been lacking lately, recording them away from home so we'll have no toddler-ruptions. We hope that the result will be a much more entertaining, interesting, hopefully occasionally funny, but at the very least much more tolerable show for you to listen to every 2 weeks.
In this episode, we recap what we've been up to since mid-October, we review Plants Vs. Zombies 2, SNL, and Marvel's Agents Of S.H.I.E.L.D., and read your comments from Episode #92. We also have comedy music by Whitney Avalon & Jonathan Hurley, 2D6, Howard Wolowitz (performed by Simon Helberg, written by Garfunkel & Oates), The Buckwheat Boyz, Insane Clown Posse, ShiSho, Rob Paravonian, Kill The Band, and Schaffer The Darklord.
I hope you all like new format. Please leave us comments letting us know what you think of it here, or by calling 916-LUKE-SKI, which we'll respond to in 2 episodes, because that's the way we do it now.
Episode length: 1:32:05

Luke & Carrie's Bad Rapport Episode 94 - What The Format?!
[ 1:32:05 ]
Play Now
|
Play in Popup
|
Download
(161)
http://badrapport.com/wp-content/uploads/2013/11/LCBR_Ep094.mp3